Finishing the edges of your tile design gives an overall clean and polished look. But what if coordinating bullnose pieces aren't available for the tile you picked? Here are three alternatives on what to use besides bullnose tile.

First off, what is bullnose tile? Simply put, it's trim that is used to provide a smooth, finished edge to your tile layout. In the example below, bullnose pieces of white subway tile were used to frame the shower wall and hide the exposed edging of the 3x6 tiles used in the design. Note: bullnose edging can be on either the long edge or short edge of the tile. In this example, the bullnose is on the long edge.
Now it's time to get creative! Here are three different ways to finish the edges of your design without using bullnose tile...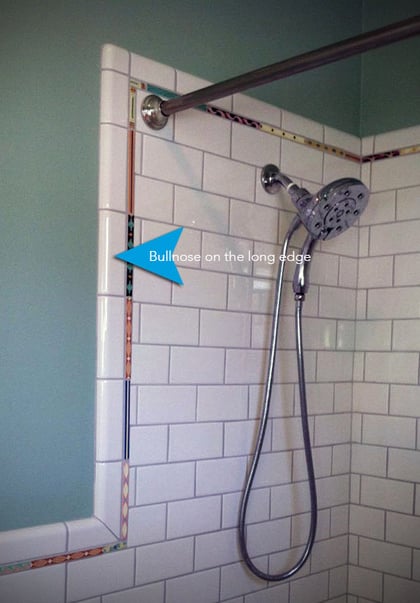 1. Make your own bullnose.
If you're using a full-body porcelain tile, you can make your own finished edges! Using a wet saw that has been fitted with a bullnose blade, it's possible to grind down and finish one edge to create a bullnose. An angle grinder with a polishing pad can then be used to buff the edge to match the finish on the rest of the tile.
2. Metal Trim
Understandably, not everyone would want to take the time to individually manufacture bullnose tiles. Tile installation can be complex enough, right? An easier solution: consider using metal trim! Practical and unobtrusive, metal trim will protect the edges of the tile from chipping while completing the look of the design. Another plus…metal edging comes in a variety of finishes. So it's fairly easy to find an option that coordinates with the design, as well as the fixtures/furnishings, in the space. The Schluter-JOLLY series of trim, for example, is available in chrome-plated solid brass, color-coated aluminum, anodized aluminum, and even PVC.
3. Marble Accents
A timeless method of adding a touch of sophistication and class to a tile design … utilization of marble accents! Marble is typically easy to coordinate into a design, as it comes in a variety of complimentary tones. Marble accents are also pretty easy to come by. Pencils, liners, quarter rounds … you name it. While some marble accents may be pricier than other trim options, if you're looking to elevate the look and feel of your tile design, it may be worth the splurge!