Permanent Sealing of Natural Stone and Honed Quartz
The SatinStone treatment is a process which permanently reduces the pore size of all surfaces while repelling both water and oil. Resealing is not required on granite, quartzite and quartz. This collection of quartz and natural stone presents an unparalleled color palette, flaunting depth and clarity with a three dimensional quality. Available in a gloss, satin, or suede finish, SatinStone not only looks and feels spectacular, but shines when it comes to high performance as well.
SatinStone Granite and Quartzite (that does not contain calcite) outperforms Quartz as it has higher heat and UV resistance, outperforms Porcelain as it is less brittle and therefore less prone to cracking on impact, and outperforms granite as it is more stain resistant.
SatinStone Quartzite that contains calcite has the same attributes as SatinStone™ granite and quartzite but the treatment will not prevent etching from food acid which does occur to a lesser extent than marble.
SatinStone Honed or Leathered Quartz outperforms untreated honed and leathered Quartz surfaces as microscopic scratches and pores are reduced to make cleaning simple and easy.
SatinStone Marble and other softer stones will resist staining but are still prone to acid by food acid.
---

Azerocare is a new natural stone treatment from Antolini, the leading innovative producer of natural stone. Azerocare provides enhanced protection from the most common damage to kitchen and bathroom countertops, while preserving the characteristics and color of natural stone. Through an advanced treatment process implemented by Antolini during their preparation of the stone, Azerocare marble countertops offer enhanced stain-resistance, etch-protection and UV-resistance, providing a bacteriostatic, easy-to-clean solution for busy people on the go.*
There is no such thing as a completely etch or stain-proof countertop. However, the Azerocare treatment produces a highly stain-resistant surface, and, for a limited period of time, is able to protect against etching from most acidic foods such as: wine, power drinks, tomato sauce, vinegar and lemon juice that can damage untreated stone.
The Azerocare treatment streamlines the maintenance requirements for the stone by imparting upon it bacteriostatic properties, which means that bacteria will be stopped from reproducing on the stone's surface – perfect for kitchens or bathroom vanities where spills and splashes are inevitable. This hygienic solution allows the surfaces to be easily cleaned with nothing more than soap and water – no need for harsh chemical cleaners or special polishes.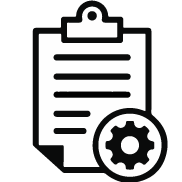 Click to view the Azerocare Cleaning and Maintenance Guide.
---
* GENROSE recommends cleaning the spill as soon as possible to reduce the chance of staining or etching. In addition, an occasional application of stone polish also provides extra protection against acid-etching or staining.