A Thoroughly Modern Farmhouse
In the heart of Connecticut's river valley, stands a newly renovated farmhouse. Authentic rustic meets thoroughly modern in this spacious and luxurious home. Designed as a weekend get-away, this house has all the amenities for comfort and relaxation.
Designer Kitchen and Bath: Diane Miner
Design Consultant: Diane Miner
House Design: Klausen Construction
Products Used:
BRIWHITALASKWA48 - Alaska
MATBICAFF1218HO - Bianco Carrara
PIESGPOREALIFF41 - Realize
TRTVANIFF1224HO - Travertine - (Discontinued) Browse our Natural Stone Tiles page.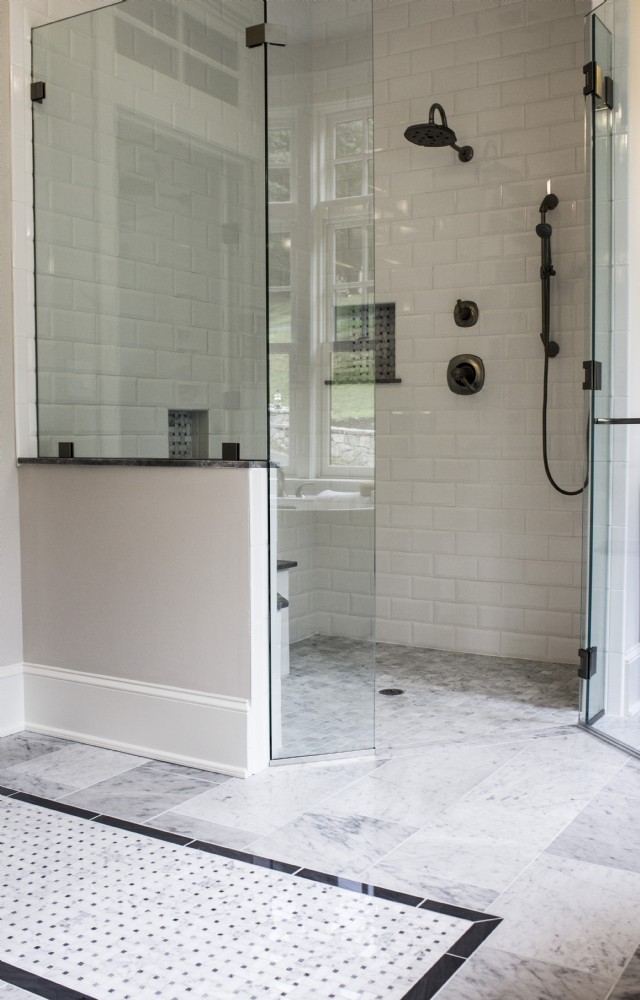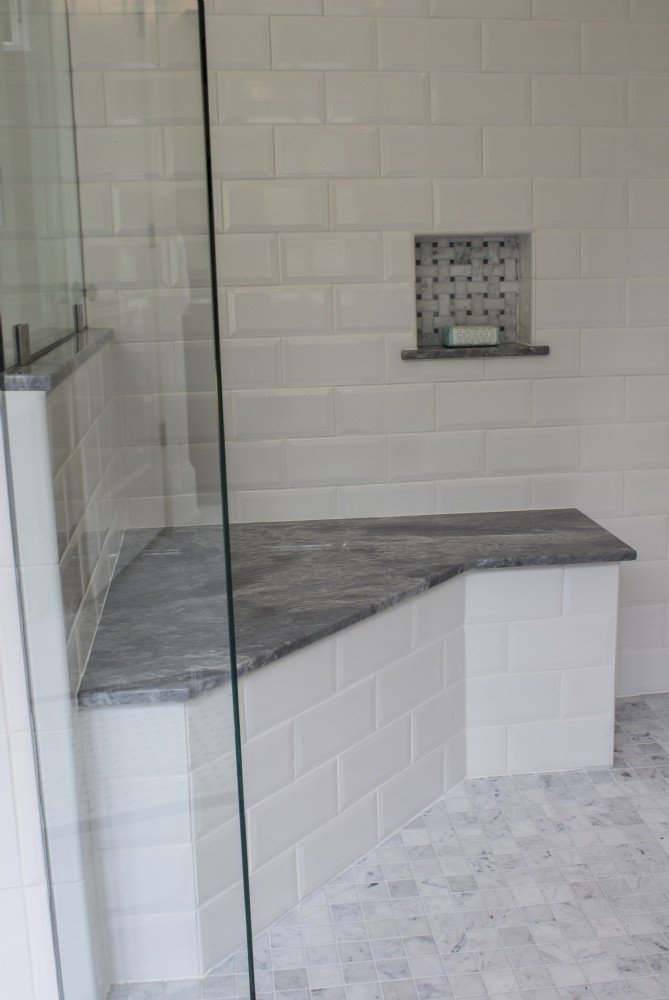 The Kitchen: Light and bright, the open floor plan includes an extensive kitchen, complete with a warm and inviting extra long natural stone center island. The island and countertops feature a exquisite natural stone granite in Cream Gold leathered finish that sets the warm tone of this space. A backdrop of 3x6 honed Crema Marfil Subway tile displayed in the backsplash, complimented by the Soho Fancy Weave backsplash over the cook top in Crema Marfil Light with Emperador Dark dot brings an air of sophistication to an otherwise large space. The soft hues of the subtle grey and white is a theme that will be carried to all areas of this home to elicit a feeling of serenity.
The Breezeway and Sunroom: Large format 12x24 field tile in Natural Stone Travertine, Botticino Vanilla brighten up the breezeway and sunroom. A subtle change of arrangement adds character; a herringbone pattern in the breezeway and subway pattern in the sunroom keeps the space unified and visually interesting.
The Master Bath: The master bath is the definition of both beauty and luxury. Step onto a pathway of 2" Bianco Carrara basketweave mosaic with a polished grey dot accent* to rejuvenate in a relaxing bath against a woodland backdrop. *Bianco Carrara was also used in the shower niche. A set of vanities - his and hers, are strategically placed on each side of the bath. The stone top vanity complements the intricate theme. For a quick rinse, slip into a glass encased shower featuring Alaska White high gloss 4"x 8" Subway wall tile and 2"x 2" Bianco Carrara honed mosaic, on the shower floor is set in a desired diamond shape.
The Guest Bath: Featuring an intriguing display of natural stone honed Travertine in Vanilla, the flooring is in a 6x12 herringbone pattern, blending perfectly with the 12x12 cut used on the step to the shower and the 1x1 mosaic displayed on the shower floor. Adding a sense of movement, the shower walls flaunt 4x12 Realize Staturario Gold Polished Subway tile that harmonize the space.
Perfectly set, each element in this space is both functional as well as beautiful. Designed as a cozy, comfortable retreat, the open floor plan of this home also lends itself endless entertaining opportunities.