How to Protect Crackle Tile from Staining
Posted on by Irene Ferreira
---
Interesting and full of of character, crackle tile has become a popular choice in today's design projects. From kitchen backsplashes to a variety of bathroom applications, more design-conscious homeowners love the subtle web patterns and unique designs inherent to crackle tile. Although beautiful, crackle tile warrants a cautionary disclaimer when installing.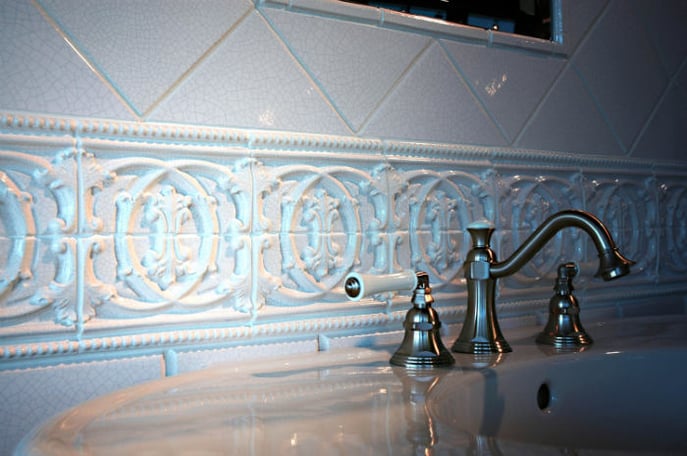 Before Installing Crackle Glazed Tile
Dirt, dust, or water is the culprit in ruining the character of crackle tile. Dark colored liquids can easily stain a beautiful backsplash. Water will cultivate bacteria causing mildew growth in tile's lines. Dark grout color can soak into the tiny crevices, creating stains that will change the look of the beautiful tile you fell in love with. Although most crackle tile is temporarily sealed by the factory, it is important to apply a penetrating sealer prior to installation*. The sealer will penetrate the fine lines of the glaze and protect the body of the tile against water absorption, discoloration and staining. If you notice color change after cutting the tile with a wet saw, allow the tile to dry prior to installation.
Note: We highly recommend sealing the tile with a clear, neutral pH, water-based penetrating sealer prior to installation. *Although some manufacturers may differ, we do not recommend installing crackle tile in the shower.





After Installing Crackle Glazed Tile
In wet area applications, resealing the tile after installation adds a second layer of protection to the crackle glazed tile, and lastly, sealing the grout joints protects the entire surface from moisture and dirt. Once sealed, unlike natural stone, crackle glazed tile should not need to be resealed. For long lasting, beautiful results, do not use harsh abrasive cleaners, and take note of changes to the tile's surface to ensure the sealant is holding and the tile is protected.
Before starting your project, consult with the manufacturer's literature for specific product and application details.
---