Natural Variation in Natural Stone
A product of Mother Nature, each piece of natural stone is completely unique. Since coloring and veining can vary dramatically, it's best to view full slabs of the material you're interested in purchasing. By doing this, you will not only discover the piece that speaks most to you, but you will also get the full picture of what your stone offers in terms of veining, shading, and coloring.
If you've ever visited a stone/tile showroom, you may have seen sample boards showcasing smaller color swatches of different stones. While this is a nice and compact way to present an idea of what different stones look like, it's still best to ask if you can see a full slab (whether in person or simply in a photo). By doing this, you will protect yourself against any surprises at installation time!
Just to give you a visual, check out these photos.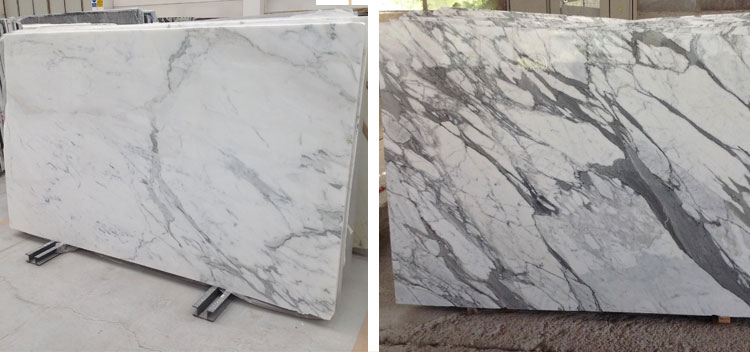 Pictured above, two very different slabs of Statuario Marble. As you can see, the slab on the left is much softer, with subtle, smoky grey veining. The slab on the right is bold and dramatic with thick dark grey veins.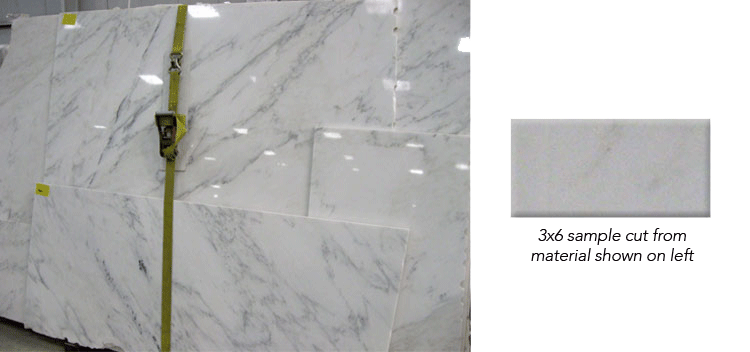 Here's a perfect reason to ask to see the full slab. Shown on the left: slabs of Eastern White Marble. Shown on the right: a 3x6 sample that was cut from a more neutral area of the stone, thus not showing the true veining of the particular slab it was cut from.